Blog
The Impact & Innovation database – mapping impact startups and investment around the world

Impact investing accounts for over 15% of total European VC investment, 3x compared to a decade ago. Global VC investment in impact startups is set to surpass €19B in 2020, making up 7% of global VC investment. Impact is no longer fringe activity, but finding real traction and proven success in Europe and around the world.
These new research findings mark the launch of our new Impact and Innovation ecosystem database, co-initiated by ImpactCity, Danske Bank and Tech Nation, supported by Progress Tech Transfer Fund, +impact, Impact First Investments, GITA, Exponential View, Ananda Impact Ventures and Planet+. The new ecosystem database, aiming to accelerate purpose-driven entrepreneurship and innovation through better data, catalogues 5,000+ startups and scaleups, 7,472 funding rounds, and 232 exits of innovative companies addressing the world's most pressing challenges.
access the platform
The database reveals that Climate tech startups, covering among other niches electric vehicles (Arrival, Lilium), battery technologies (Northvolt, Blue Solutions), and alternative protein (Oatly, Ynsect), have attracted the most investment of any Impact sub-sector, with European players emerging as global market leaders. These European companies working to tackle climate change and its impacts have attracted €9.8B in VC investment in the last five years. 
As well as tracking all startups and venture capital movements in the Impact space, the platform also offers curated content on key impact trends, such as Sustainable Tourism, AI for Good or Alternative Protein.
See the Alternative Protein landscape
In addition to the startups, explore the investors. Europe is home to more than 60 dedicated Impact-focussed VC funds, while established European VCs are also increasingly backing impact startups. 
Impact startups are still hiring
In Q3 we quietly started rolling out a new job board, which we've integrated into the Impact & Innovation ecosystem. The job board aggregates data from different websites via APIs, and combines it with the power of Dealroom data. This enables users to make very detailed searches for jobs at impact startups directly on the platform. Search for impact startups founded in the last 5 years, or those that have raised Seed investment. Filter by location, growth stage, business model and any other metric tracked by Dealroom, and explore 3,381 jobs* in impact startups that are currently actively hiring. *more coming soon.
Find impact jobs
The Impact and Innovation platform will bring together startups, investors, non-profits, governments, and corporates in one open-access data-driven platform. The new mapping of the global impact and innovation ecosystem will facilitate data-driven policy and decision making, the sharing of cross-industry knowledge, and will foster the partnerships required to help next generation innovators succeed on the global stage.
Customize your experience
Use customizable investment heatmaps to visualize data and spot new trends. You can display the distribution of investment geographically, or you can see the distribution of impact investment by specific UN Sustainable Development Goal focus areas. You can also use our UN SDG themes page as a perfect jumping off point, showing the number of startups, funding, exits and investors by SDG.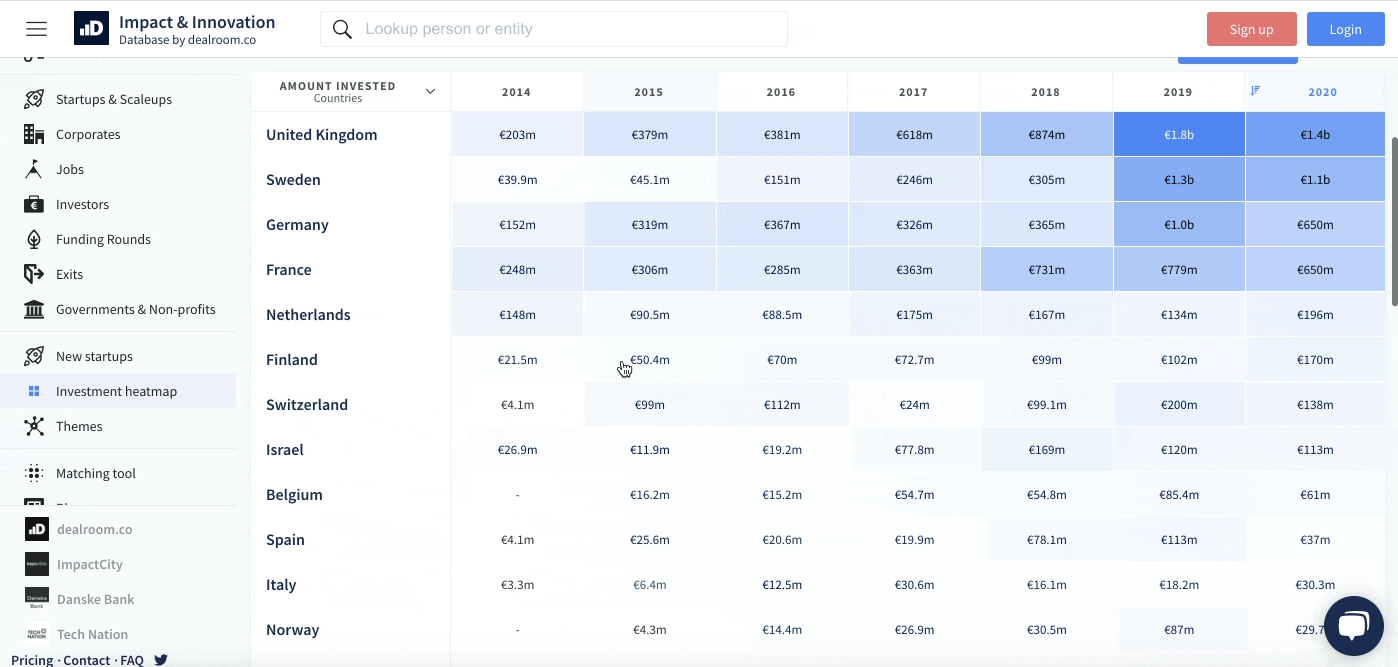 Explore investment heatmaps
What's next? 
The Impact & Innovation ecosystem is now live, but this is just the start. 
We want your help to making this the most definitive, collaborative, impactful platform for the change-making economy. Help us fill in the gaps, raise visibility for your community, ecosystem, sector or startup by contributing to the database. Give us your feedback on what's missing and what we can improve. 
In addition to the database, we'll be bringing curated content and essential events on the global Impact and Innovation ecosystem. Sign up to the platform to be kept in the loop, add your organisation, and let us know what you want to see next.