Blog
More new features: save job searches, innovations and personalised dashboard
We know it's not been long since our last product update, but we've got more exciting new features. Also, the themes tab, where you can easily find industries, business models, and SDGs, got a fresh new look. We hope you like it.
Here's what's new.
Innovations dataBETA
Find the new Innovations section under the More tab. The innovations section allows you to find and track innovations developed by companies, investors, corporates or universities that have received a grant from the EU. Some of Europe's biggest innovation breakthroughs and startup spinouts come through these projects; get them on your radar from day 1.
You can view the innovation topics, participants, key innovators, project budget and EU contribution, project and participant locations, completion dates and more. 
Like on the job openings tab, here you can also find saved searches at the top of the page.
NB. This is a Beta feature, and we'd love to know what you think.
Save job searches 🔎
Job opening searches can now be saved like any other query on the platform. Save your favourite job openings, like German fintech or *insert any other criteria*, on the platform and come back to them whenever you need to. Enter the filters you're interested in on the jobs tab, then click the Save button on the right. Done.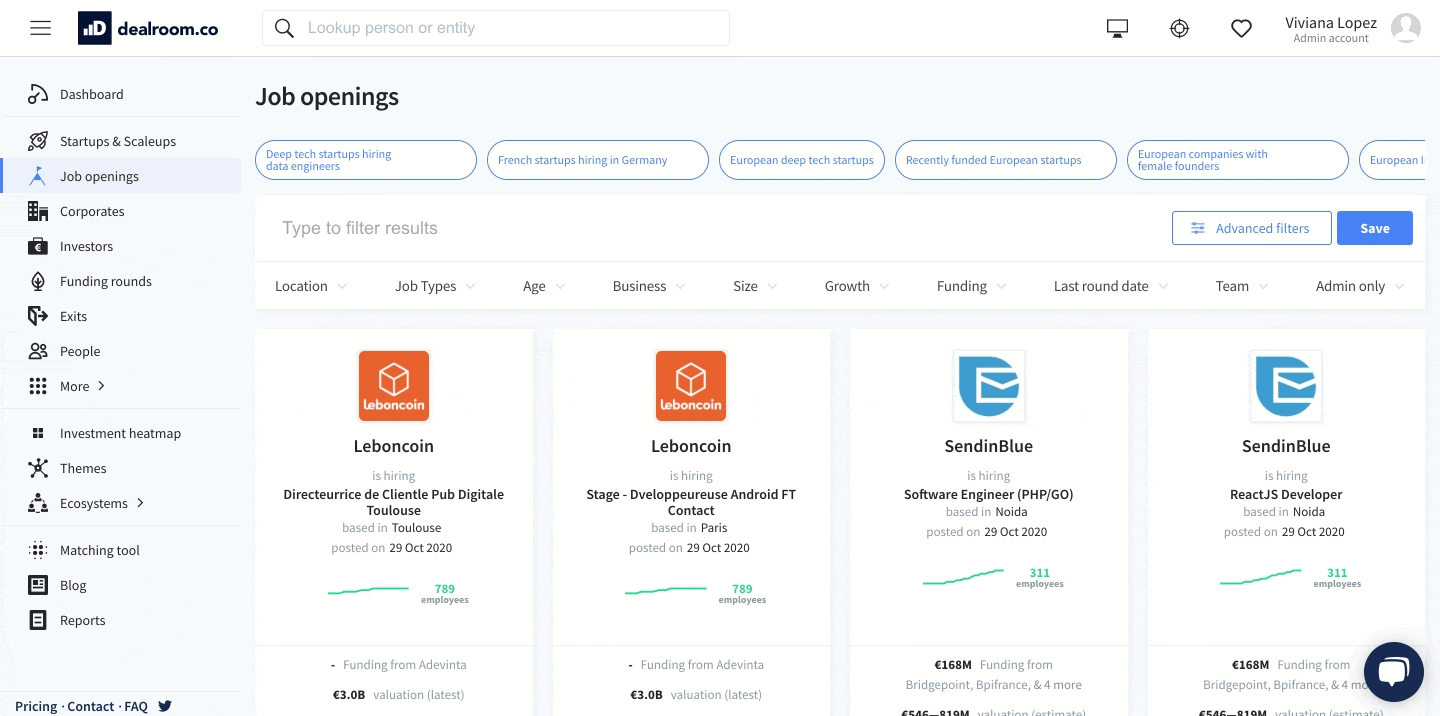 You might have already explored our suggested lists and searches on Dealroom. Well, you can now find suggested searches for jobs too, for hot link access to curated searches. Find these at the top of the job openings page.
Exlore and save jobs
Note sharing 📝
Personal notes can be added on companies for later personal reference. Created directly on company profiles they can be accessed by returning to the company profile, or accessing saved notes but clicking on the heart icon on the top right of the platform.
But notes aren't new. What is new is that you can now share your notes with others on the Dealroom platform, such as team members or partners. You'll see a share option appear next to a saved note. Click and choose the person you're working with.
Personalised dashboards ✨
Dealroom Premium users can now personalize their Dealroom experience from the very first page. You can now add, edit and remove cards to always see your most important insights from first click.
Cards are the content blocks you see in the dashboard, which by default include hot startups, hot scaleups, recommendations, company updates, new matches, suggested searches, recent rounds, suggested lists, new startups, hiring startups, latest reports and the taxonomy map.
Adding cards
To add a new card, go to your dashboard then click on the Edit Dashboard button on the top right corner of the page. Choose a card to add and click on Add Card. 
Adding filters to your cards
Continue customizing your dashboard further by adding filters to the cards (not all cards are editable though*). Click on the pencil icons on the corner of a card and, just like you would do when making a query, choose the filters that are most relevant to you and apply.
Removing cards you don't need
Don't want a specific card anymore or want to go back to the default settings? Sure, no problem. To remove a card simply click on the X button on the right corner of the card, yes it's that easy. Going back to the default settings of the dashboard is just as easy. To do so click on ··· and then on Reset my dashboard.
*cards that can be added multiple times are those which you can add filters to. These include map charts, hot scaleups, new startups, hiring startups, hot startups, hot companies and new companies.