Blog
More features, more data, an upgraded platform.
At Dealroom we're always looking for ways to make the platform easier to work with. The platform has been quietly upgraded over the past few weeks and it's time to show some of the progress we've made so far. Our latest new features also include a fresh new look.
Here's what's new:
A new export format
If you are a premium user you can now download your data in .xlsx format as well as CSV for further analysis. 
Just like before, create your search, then save & export or just export the search results in your favourite format. 
Easily find and see jobs
When in table view see the number of current and the latest 3 job openings per company. Add filters in the keyword bar or use dropdown filters to find companies in the industries you're interested in. 
You can also click on a specific company to see the job openings directly on their profile, take Adyen for example.

Find out where employees are based
Let's say your company has several locations around the world (yay!), you now can showcase your employee headcount and your HQ headcount at a given point in time. 
Edit your company profile and use the employees tab to edit your employee data. Don't forget to click Save when you're done.

Explore the database
Find out which investors have been the most active lately
View rounds by quarter (3 months), in addition to every 6, 12 or 24 months to see the most active investors in the last period. 
Select the investors tab, and use the nr. of rounds dropdown to filter by industry and rounds. Continue adding more filters to get more detailed and find your next investor.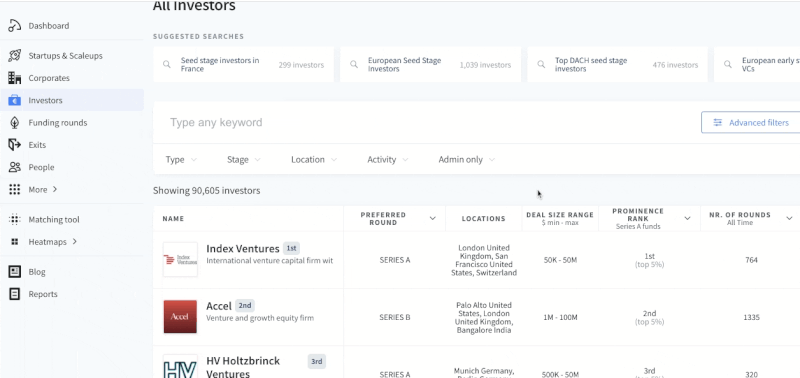 Refine the data using dropdown filters
We've continued with the integration of dropdown filters for quicker, easier and more transparent data manipulation on:
Investor portfolio size

Investors' preferred round

Investor type

Location for corporates, companies, investors

Number of rounds by time period (now also with a 3-month option)
We think these upgrades allow for faster and easier exploration. We hope you think so too!