Blog
Introducing a powerful predictive algorithm to discover promising companies
Today we're excited to launch a significant new platform feature: Dealroom Signal.
The new algorithm creates signal from the noise and makes finding the next big thing as easy as logging into your dashboard.
Rather than creating a score about a startup's general quality or performance, Dealroom Signal is specifically aimed at surfacing the most promising upcoming funding opportunities. The algorithm is therefore calibrated to find companies showing strong traction and which are predicted to be lining up for a funding event, or that are round-ready.
By default, Dealroom Signal is now added to your main dashboard where you'll find three new cards:
Top ranked startups (platform-wide)
Rising stars (increased the most in the past 24 hours)
Fastest employee growth (in the past 6 and 12 months)
At the top of the new panel, you'll also see three options to filter cards by:
You'll also find Dealroom Signal, including the breakdown, on each individual company page (wherever enough data is available):

Adding these panels to your dashboard
If you've never personalized your dashboard, the cards will appear automatically at the top of your dashboard. If you have already personalized your dashboard before, you will just need to click on "Dashboard Settings" and then "Reset my dashboard" and the cards will automatically be added.
Setting up your personalised alerts 
You can easily create alerts that use this algorithm in combination with your personal preferences. Say you're looking for UK-based seed stage opportunities in fintech. Simply make the query, then click on Save & Export. You'll now receive alerts in your notifications. 
You can also enable daily email notifications via your account settings.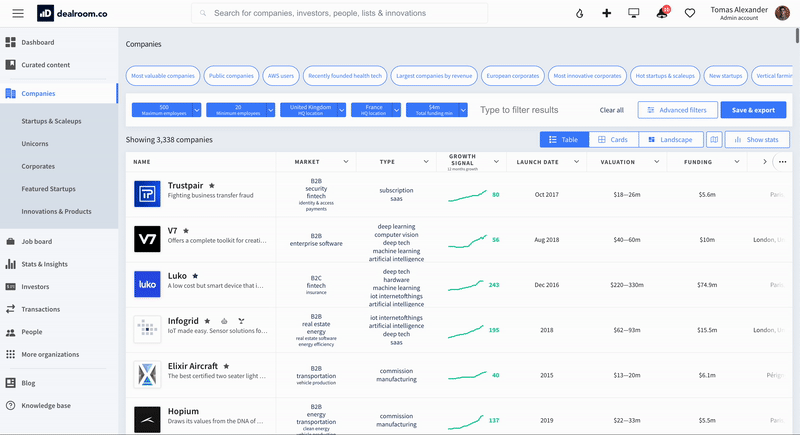 How is the Dealroom Signal calculated?
The algorithm includes over a dozen inputs, which can be summarised as follows:
Company growth (team size, product growth)

Job openings

Completion score and contextual data (does the company fit into segments of interest)

Timing (is the startup likely to raise their next round soon). 

For startups that have received funding, the score starts at zero right after the round, peaks at 1 year, and then gradually

declines

back to zero after 2 years.

Team composition
Who is Dealroom Signal for?
Dealroom Signal is used by the top VCs, corporates, government enablers, and founders to:
Discover the most promising companies

Stay at the forefront of innovation

Measure the growth of tech ecosystems 

Attract talent and fundraise
Regardless of your use case, Dealroom Signal provides predictive intelligence throughout the entire startup lifecycle.